[Original Software] OWA (Outlook Web App) Email Judger v1.4
Software Feature:
This software is used to check if the emails are hosted on OWA(Microsoft outlook web app).
Usage:
1. select an email list file (notepad file, every email in a new line, not comma separated)
2. press start
3. result files are in same folder with owa judger itself.
(proxy is optional, it's not must needed)
Update logs:
v1.4
1. add green style owa email support
2. add some mx exclusion, to detection the situation that email moved from owa to other mainstream email provider
3. change email loading cache size to 1000k (it was 30k before)
4. support loading email with comma(,) inline, any text after comma will be ignored

v1.0.3
add an option to detect & save the owa login url
add an option to make judger save different style owa emails to different files (yellow, blue owa login page style)
optimze for scaled screen

v1.0.2
detect more owa page style

v1.0
this is the first version of this tool, any feedback and advice are welcomed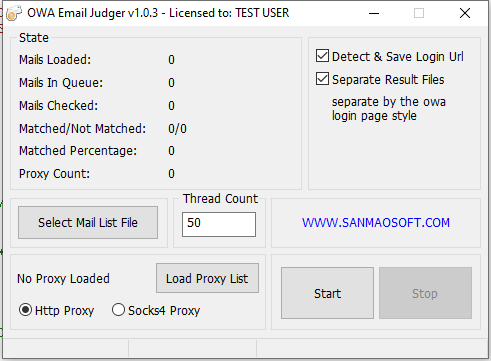 [Original Software] Honeypot & Spamtrap Email Remover [Original Software] EMail Sorter v1.9 – Tool for sorting emails from office365, godaddy, gmail, yahoo etc.