[Original Software] Sanmao Ftp Cracker / Scanner
Features:
1.The software automatically search keywords you typed from many search engine(support 8 popular search engine now, and will be more).
2.Auto extract domains from search result to crack.
3.Crack ftp of the domains using weak user/pass list(user/pass list can be customized).
4.support domain white list, the domains in white list will be bypassed, (eg: many search result are Wikipedia's sub-page, then you can add Wikipedia.org to white list, it will avoid wasting time.
5.once a domain is cracked, the software can automatically check the domain's Google pr,Alexa rank and search cache date(it's very useful for seo),and it will be auto saved to file.
6.it's support auto shutdown when cracking finishes.
How to use:
1.type some keywords.
2.set some user/pass (you can use the default too).
3.select some search engine which you want to use.
4.click start.
5.you can go to sleep now, when you wake up, you have already gotten lots of ftp account.
Preview: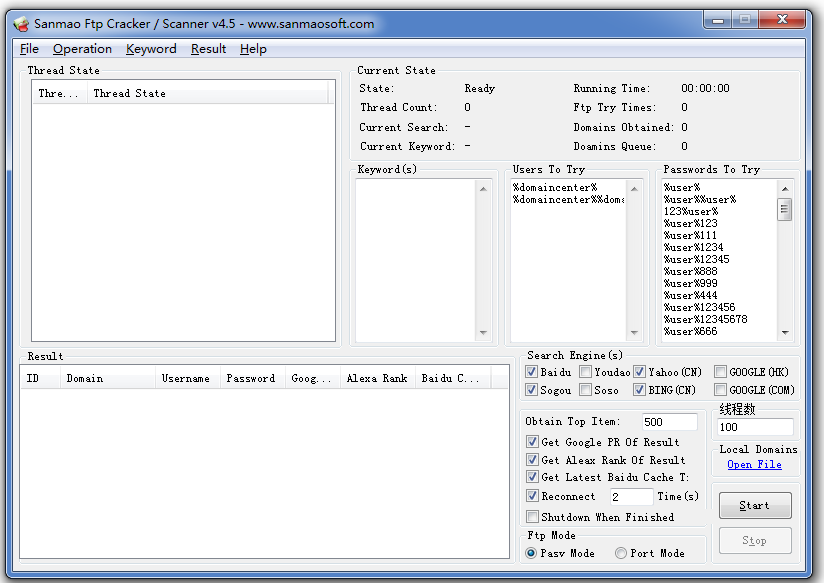 Video:

[Original Software] Network Packet Retransmission Tool [Original Software] EMailSpliter, A Tool for sorting emails